CRiKT v2 (Slim BCON) Compact Rescue individual Kit Trauma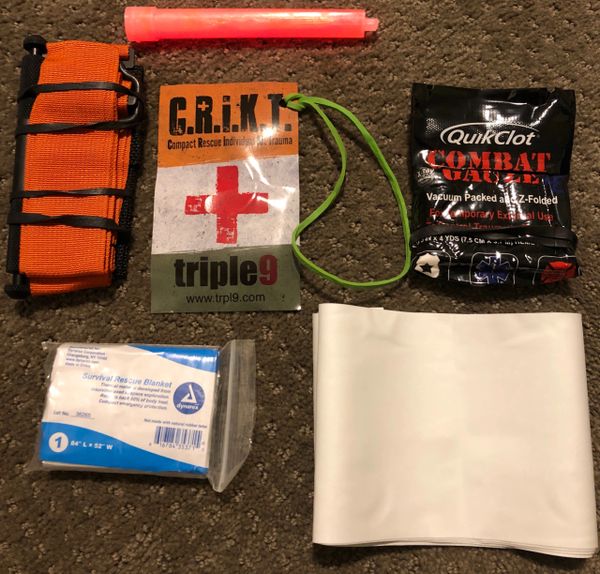 CRiKT v2 (Slim BCON) Compact Rescue individual Kit Trauma
The CRiKT v2 (Slim BCON), addresses the need to focus on a more modular approach to point of injury trauma care.  Carrying an overloaded kit bag can sometimes hinder access to the patient.  The CRiKT v2 focus on extremity and junctional hemorrhage control.  The modular approach allows expedition leaders to parse out kits to specific practitioners or to even out weight distribution in backpacks and even small all terrain vehicles where carry capacity is at a premium.  The kit is approximately 4"X5.5"X1.5", it fits easily into your back pocket of your jeans, your cargo pocket, backpack, computer bag, purse, car glove box/center console/seat back pocket, your waist bag, bike bag etc.  It is vacuum packed in a clear 4mil plastic bag making it easier at the TSA check point.  It is water proof so long as the vacuum seal holds, light weight and low profile.  
The CRiKT comes with:
(1) SOFTTW tourniquet
(1) Pack of Combat Gauze hemostatic
(1) Mylar Blanket
(1)EsMark Compression Band
(1) Patient Card with color coded instructions
If your desired treatment modalities are not part of one of our three CRiKT load outs we can create any load out our customer wishes, the price will fluctuate based on items desired as will the size of the kit.  Call us or email us through the "Contact us" Page.   

First Responder and Public Safety please call in for pricing.